The farm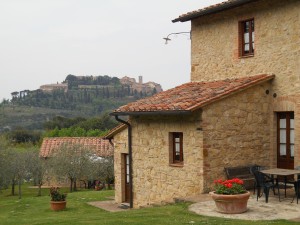 » In the heart of the Sienese countryside on a hill looking out over Montepulciano, the Val di Chiana and its lakes is situated the Frateria di San Benedetto, easily reachable on the main road from Chianciano Terme toMontepulciano.
Thanks to its position, in the past the Frateria served as a stopping point for travellers and pilgrims on their way to Rome. The present day agriturismo (farmhouse accommodation) conserves not only the original name and position but also its sense of hospitality and the original 18th Century structure complete with its dovecot, its bread-baking oven, its external staircase and its lodge.
The whole building has been restructured so as to maintain the original atmosphere using natural materials which have always characterised rural Tuscan architecture (stone and terracotta tiled walls, terracotta floors and ceilings and chestnut wood beams).
Apart from being situated in the middle of the most typical Tuscan agriculture, and immersed in the gentle embrace of olive groves, vineyards and fruit orchards, the Frateria S. Benedetto agriturismo is situated in the midst of a natural fauna reserve.
» It is however not far from artistic cities such as Siena, Perugia andOrvieto, spa towns such as Chianciano Terme and Bagno Vignoni and of course right on the doorstep of the immediate area's jewels, Montepulciano (which was known as the pearl of the 16th Century tanks to its architectural treasures), Pienza andSan Quirico d¹Orcia.
Guest can spend their time roaming in the silence of the surrounding countryside, go trekking or mountain biking, swim or relax by the pool.
All this is just a few minutes drive from some of Tuscany's most important Gothic and Renaissance centres.
The agriturismo offers four comfortable apartments in the main building and one in the annex.
Each apartment has one or two bedrooms, independent central heating and fitted kitchen.