Confettura extra di Mirtilli
Confettura extra di Mirtilli
March 7, 2020
By
admin
0 Comment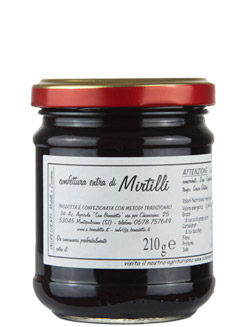 Handicraft-production of jam
Because our jams are still produced with traditional methods, they present all the characteristics of the homemade ones:
» The taste, because they are made with fresh fruit.
» The natural fruit's colour, because they are cooked at the blaze and so it doesn't need addition of colouring matters.
» The lack of added sugar or its eventual minimum use, allows us to realize a product with a percentage of transformed fruit proportionally elevated compared to the most customary adopted procedures, allowing us therefore to obtain a dense product without having to add crowded substances.
» The genuineness, because as method for the conservation is used only the pasteurization that supplies an unquestionable guarantee of conservation, in fact the jam, once opened, must be conserved in the refrigerator.
» Among the several jam's types, we like to remember plums' jam, because it's born from a fruit coming from a wild tree, then cultivated in orchard, which lives and makes fruits only in the hills' area of Montepulciano.
It's a tree that gives a lot of fruits, but on alternate years. The plums reach the maturation in the hottest period of the year, August.
The maturation's period is concentrated in only 15/20 days, for this reason picking and transformation in jam must be made in the same day.
The plum of Montepulciano has a taste quite particular and has, among other things, much-prized laxative virtues, that remain unaltered in our jam.
All this allows our jam to be not forgotten after its first tasting.